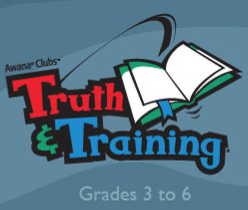 T&T is a program designed for children ages 3rd grade through 6th grade. This club also emphasizes Bible
memorization and Bible centered activities through weekly game time, council time and handbook time.
Handbooks and large-group lessons deepen a child's knowledge about God and His Word and teach how to put that knowledge into action in everyday life.
T&T is different from other Awana programs. It is comprised of two clubs with distinct curriculum, uniforms and awards:
• T&T Ultimate Adventure for third and fourth grades
• T&T Ultimate Challenge for fifth and sixth grades