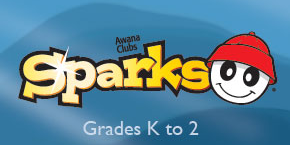 This club is a three year program for children ages kindergarten through 2nd grade. Sparks emphasizes Bible memorization and Bible-centered activities which is accomplished through weekly games, council
times and handbook time.
To many children in kindergarten to second grade, Sparks is the highlight of the week! They love their red vests, the exciting games and spending time with leaders and friends.
Sparks is divided into three years, each with a unique rank: HnagGlider, WingRunner, and SkyStormer. Each year, Sparks clubbers:
• explore the biographies of people of the Bible from a new portion of Scripture
• memorize Bible verses
• complete handbook activities