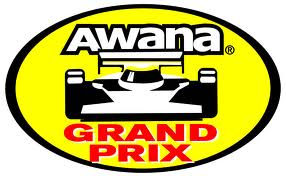 On Saturday, November 7th our Awana Club will compete in the First Annual Lowcountry Awana Grand Prix. It will be held in our church's Family Life Center. The event starts at 9am, and clubbers should arrive before 8:30am.
Car kits will be sold on club nights in October for $5.00 each. Parents and leaders are encouraged to purchase and build cars also. Because we are competing again another church, our car numbers are 1-49 for each of the divisions below. Numbers are assigned on a first come first serve basis. Cars must be bought through our Awana Club, and cannot be purchased through an outside distributor.
All cars must be checked in on Friday, November 6th between 6pm – 8pm in the Family Life Center. Cars must be checked in on Friday night. Cars brought on Saturday will not be allowed to compete. On Friday night, there will be a pit area should your car need modifications to meet the inspection parameters below.
For this event, we will be competing against the Awana Club of Miles Road Baptist Church. Both churches will check in their cars on Friday night.
There will be four divisions. Preschool (Puggles & Cubbies), Sparks, T&T, & Open (Trek, Journey, Leaders, & Parents). There will be awards given for both speed and design for each division and each church. This means there will be a 1st, 2nd, & 3rd for each division, each category for each church. Finally, there will be an overall speed award, which will be given to the fastest car, no matter the church. The Open division is not eligible for the Overall Speed Award.
On the club nights of October 21st & 28th, we intend to have some men available to help cut cars for clubbers. A design must be provided on the car, as they will only help cut, not design or build. Please be sure to have your Name, Division, & Car Number on the bottom of the car.
Car Instructions
Overall length shall not exceed 7"
Overall width shall not exceed 2-3/4"
Overall height shall not exceed 3"
Car weight shall not exceed 5 oz.
Wheel bearings, bushings, washers, and springs prohibited
Be sure that the bottom clearance under wheels is at least 3/8"
You may only use parts from the kit to construct your car (with the exception of paint, decals, and lead weights)
Numbers must be on the car, and will be assigned when purchased to maintain uniqueness
Here is a list of websites that have useful information about building a grand prix car and participating in a grand prix event:
http://grandprix-race-central.com
http://www.artofinvention.biz/organize/index.htm
http://pack146.nova.org/pinewood/tips.html
http://win-edge.com/pinewoodderby.shtml
If you have questions, check out the website at http://awana.northwoodbaptist.net or send an email to awana@northwoodbaptist.com.