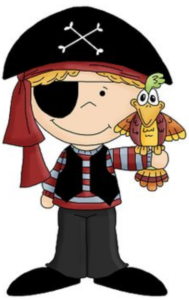 On September 21st, the theme night for Awana will be Dress Like a Pirate Night.
Clubbers come dressed as pirates. There will be awards for the best dressed boy & girl pirate for each club.
We will play games with gold-covered chocolate coins. For counsel time, the Bible doesn't talk about pirates, but we do have an account of Paul's shipwreck. We also have other verses that talk about treasure. Acts 27/28 or Proverbs 2:3-5.